How You Can Volunteer and Make a Difference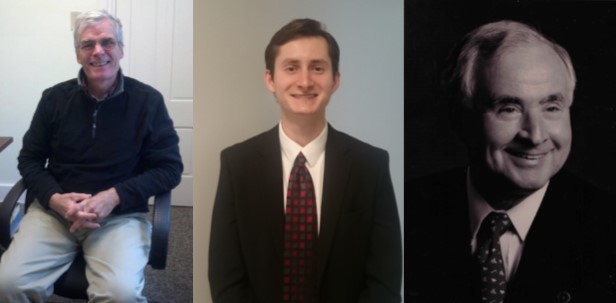 Volunteer Opportunities for Attorneys
Through your participation, Pine Tree Legal Assistance can increase access to justice for low-income Mainers. Our private attorney involvement activities have been designed to complement existing staff services for specific client populations or in specific legal areas of need. All activities are designed to augment other pro bono projects throughout Maine.
Among the many unmet needs, you can provide services to the veterans community, homeowners seeking to avoid foreclosure, individuals facing debt, bankruptcy or tax burdens, and clients in need of support with disability claims.
Learn more about volunteer opportunities for attorneys.
Volunteer Opportunities for Students, Community Members, and Other Professionals
Working at one of Pine Tree Legal's six offices around the state or in one of our specialized units, you can make a significant difference in the lives of low-income Mainers. Opportunities include interviewing clients, assisting legal staff, research and program development work. Undergraduate and law school internships and externships are available year-round.
In addition to in-office opportunities, outside professional expertise is also in demand. Clients need assistance from CPAs, psychiatrists, tax consultants, language interpreters, and other professionals. The program can also benefit from knowledgeable event planners, administrative, computer and web-design specialists.
Learn more about volunteer opportunities for students, community members, and other professionals.
---
Volunteer Opportunities for Attorneys
Pine Tree welcomes pro bono assistance from attorneys around the state in various practice areas. To support your participation and ensure the best attorney/client interaction, Pine Tree provides malpractice insurance, a small litigation fund, training, and mentoring. Opportunities include:
Lawyer-of-the-Day Courthouse "Pick Ups"
This is a time-limited commitment on a weekly or biweekly basis. Pine Tree provides training and has successfully utilized this program for both evictions and third-party debt collection matters.
Veterans Panel
Pine Tree operates a monthly "Military Monday" clinic providing legal information to low-income veterans in a partnership with Starbucks. Topics include VA benefits, foreclosures, wills/estates, and third-party consumer debt. Pine Tree also assists veterans with VA benefit overpayment cases and discharge upgrade matters.
Low-Income Taxpayer Clinic (LITC)
Pine Tree, in conjunction with the IRS Maine Taxpayer Advocate, operates this statewide project to assist low-income taxpayers. Pine Tree needs help from tax attorneys, CPAs, and other tax professionals to assist with federal tax cases and tax preparation services.
Maine Attorneys Saving Homes (MASH)
Since 2008, Pine Tree staff attorneys have supported the use of private attorney volunteers on foreclosure defense through our MASH program.
In-House Attorney Volunteers working at PTLA offices
Pine Tree provides training, office space, technology, and support for those attorneys wishing to volunteer at one of our offices. Some attorneys have retired to Maine from other jurisdictions and practice law under Maine Rules of Civil Procedure 89(c).
Support or Co-counsel
Pine Tree's Litigation Director and other senior attorneys recruit experienced litigators to assist staff attorneys in complex proceedings.
Moot Court
Private attorneys routinely participate in moot court sessions and serve as in-house trainers for staff on both substantive and procedural law issues.
If you are interested in offering your assistance, please contact Allison Paine at apaine@ptla.org or 207-400-3221. Thank you!
Volunteer Opportunities for Students, Community Members, and Other Professionals
Pine Tree Legal Assistance (PTLA) is pleased to offer a variety of public service opportunities to community members and professionals, undergraduate, postgraduate, and law students.
Students
Interns typically provide valuable service by interviewing and presenting legal information to clients. Other responsibilities may include research, drafting memoranda, and assisting with development and program needs. PTLA also makes an effort to tailor opportunities and responsibilities to each intern's respective interests, goals, and their availability. Interns can expect their experiences to enhance their understanding of Maine's civil legal system and of the impediments people of low incomes face as they attempt to resolve often overwhelming legal matters. Interns will also learn how PTLA and other nonprofit legal services providers work to ameliorate legal impediments, while making valuable contributions toward this goal. Interns may also have an opportunity to attend staff case review sessions, observe court cases, attend our summer lecture series, and develop, coordinate and complete an independent project.
Prospective interns and externs should note that academic credit for their work at PTLA is dependent upon the policies of their academic institutions. Due to budgetary constraints, most of PTLA's opportunities are unpaid. We encourage applicants to seek funding from schools, fellowships, and other sources.
Professionals and Community Volunteers
Additionally, PTLA provides a variety of opportunities for professionals to offer their expertise in a public service setting. Among the areas of expertise often needed are: administrative assistants; Certified Public Accountants (CPAs) and enrolled tax agents: foreign language translators; fundraising and Event Planners; Psychiatrists, web designers, and other technology experts.
If you are interested in offering your assistance, please contact Allison Paine at apaine@ptla.org or 207-400-3221. Thank you!
"My experience at Pine Tree was the most transformative work I have done as an undergraduate towards figuring out the path I see myself following upon graduation. As an intern, I was able to shadow attorneys at court, work on cases, and conduct research. Everyone at Pine Tree was willing to help me if there was a topic I was uncertain about, which was particularly useful as I was an undergraduate and not as familiar with legal jargon as a law student may be. All in all, it was an incredible opportunity and summer experience."
-- Julia, Summer Intern 2017
"As an undergraduate intern this summer, I felt incredibly energized by Pine Tree's enthusiasm to involve me in and teach me about their work. The office's supportive community, engaging client interaction, and meaningful responsibilities truly made me look forward to coming to work each day. I left my experience with an increased understanding of the legal system, improved skills, and a passion for legal assistance. Pine Tree's services and outcomes are vital for Maine, and my summer internship allowed me to really dive into that mission."
-- Olivia, Summer Intern 2017
"Thank you so much for the past 7 months, it has been a life changing experience and one I will carry with me for the rest of my life!"
-- Grace. Intern Jan 2017- July 2017