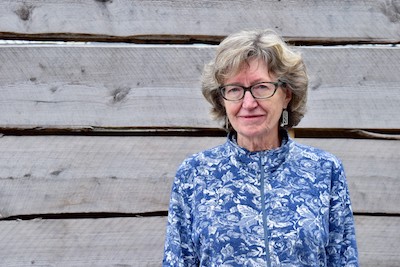 The Nan Heald Black Fly Fellowship
Pine Tree Legal Assistance's Board of Directors is pleased to announce the creation of the Nan Heald Black Fly Fellowship, an initiative to increase access to free civil legal aid in Western Maine. 
The Fellowship was created in memory of Pine Tree's former executive director, Nan Heald, who led Pine Tree from 1990 until her death in 2022. The project's name is a nod to a 1970s newspaper editorial that described Pine Tree as a "defender of low-income people which has burgeoned in Maine and become almost as omnipresent as black flies in June." 
Nan grew up in Oquossoc in the western mountains of Maine. In 1990, at the age of 34, Nan became the executive director of Pine Tree Legal Assistance and served in that position for more than 31 years. Through the creative use of funding opportunities and other leveraged support, Nan's leadership enabled Pine Tree to fortify and expand legal services to diverse client populations and to make justice more accessible for all people in Maine. 
Pine Tree Legal Assistance is a statewide, non-profit organization committed to providing high quality, free, civil legal assistance to people in Maine. The Nan Heald Black Fly Fellowship is a 10-week, $7,000 paid fellowship for a law student who has completed two years of law school to work at Pine Tree Legal Assistance serving Franklin County. The fellow will be based in the Lewiston office and will work on a combination of substantive legal work and community outreach, including building relationships with community partners and exploring the possibility of establishing a legal clinic in one or more rural locations. 
The fellow's legal work will focus on housing, public benefits, and family law and victims' rights. The fellow will work under the supervision of experienced attorneys to assist with client intake, client communication, legal research, memo and brief drafting, litigation preparation, and other case work.  Students will have the opportunity to observe staff in court proceedings and fellows who have completed their 2nd year of law school may have the opportunity to appear in court on behalf of clients. The fellowship will be in person with the possibility of some remote work.  
Pine Tree Legal Assistance is committed to creating an inclusive environment for staff and volunteers. We encourage applications from people with diverse backgrounds, including women, Black, indigenous, and people of color, people who identify as LGBTQIA+, people with disabilities, immigrants, and people who have experienced poverty or homelessness.
To Apply:
Applications for summer 2024 are due on November 27, 2023 by 12 pm. Applicants should submit a cover letter and resume addressed to Shannon Karam, Esq. (she/her), Director of Pro Bono Services, through the Nan Heald Black Fly Fellowship job posting.  Applicants should include in their cover letter, 1) why they are interested in the fellowship, and 2) their qualifications for the fellowship.    
Support the Nan Heald Black Fly Fellowship
As we raise more funds, we hope to expand this project and have a greater impact. Your donation will help grow the fund and help us expand our work in Western Maine.
Donations can be made online or by mail to:
Pine Tree Legal Assistance, Attn: Nan Heald Black Fly Fellowship
P.O. Box 547,
Portland, ME 04112
Please consider a gift to support the Nan Heald Black Fly Fellowship.