Join Us and Make a Difference Every Day
Pine Tree Legal Assistance employs a diverse team of individuals, each committed to making our communities more just.
Pine Tree Legal Assistance is an equal opportunity employer and encourages applications from qualified candidates of all backgrounds.
Current Opportunities:
Managing Attorney - Augusta Office
Administrator of Information Systems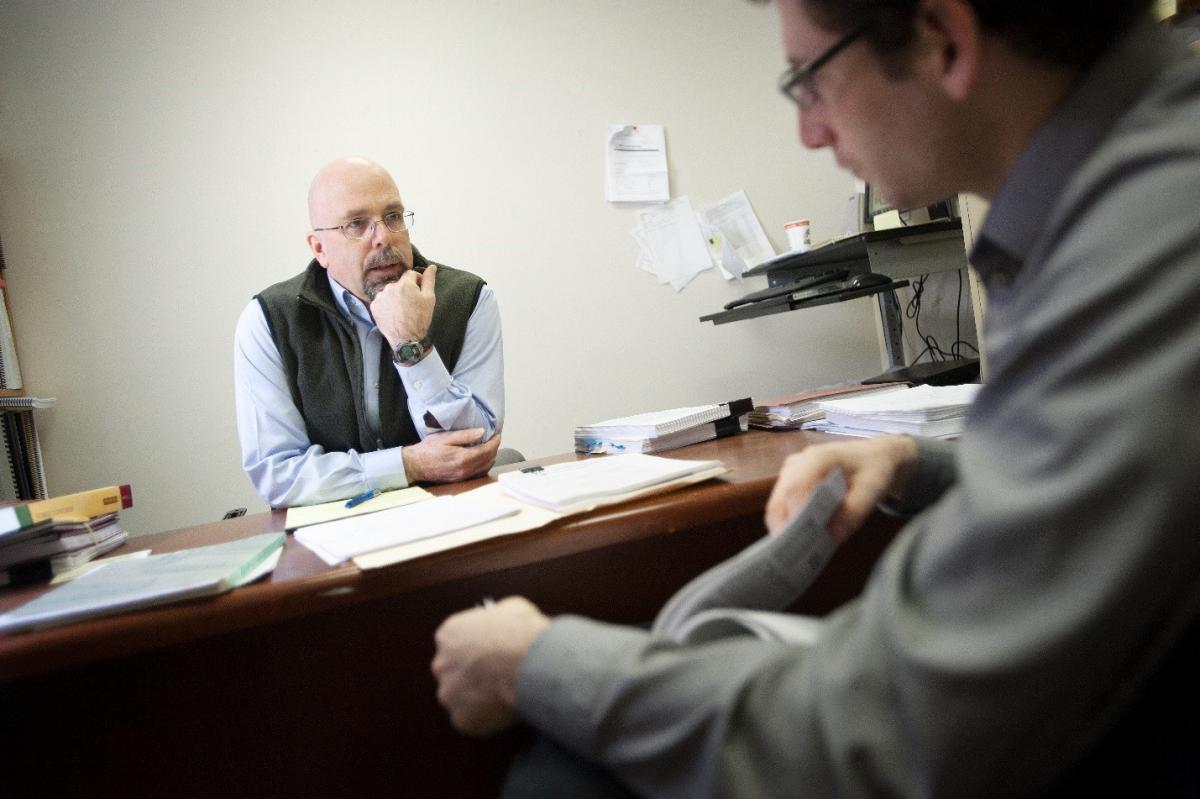 ---
Managing Attorney - Augusta Office
Pine Tree has an immediate opening for a managing attorney based in its Augusta office. The Augusta office currently includes staff handling general legal services, as well as specialists in the Fair Housing Unit and Veterans Unit. The Augusta managing attorney has also traditionally supervised the attorney handling foreclosure defense cases. The Augusta managing attorney's caseload will primarily involve general legal services (especially housing and consumer matters) for low-income individuals living in the four county area served by the Augusta office (Kennebec, Somerset, Knox and Lincoln Counties.)
The managing attorney at Pine Tree is a recognized leadership position within the program as a whole. The managing attorney is responsible for both the quality and extent of legal work undertaken by their office or project and the performance of the staff that are assigned to that office or project. As a supervisor, the managing attorney is also expected to create and foster an atmosphere of teamwork and collaboration among staff and volunteers that will continue to strengthen program services within their office or project. The managing attorney must be an active and engaged member of Pine Tree's small management team and committed to supporting their colleagues around the program. The managing attorney should be an advocate for local office and project needs within the program. The managing attorney is also expected to promptly identify and bring issues of concern or controversy related to their office /project work or personnel to senior program managers for resolution. When program wide protocols or decisions have been made by the Board of Directors or senior staff manages, the managing attorney plays an essential role in supporting/enforcing implementation of those decisions on a local basis. The managing attorney also takes a leadership role in monitoring and addressing the reputation of their office/projects (as well as that of Pine Tree overall) within their local community. Networking on a local level within the civil justice community, nonprofit agencies and potential funders should be expected. Management responsibilities are currently anticipated to require a minimum of 15 hours/week. Managing attorneys also maintain an active caseload, adjusted to reflect their management responsibilities.
Pine Tree managers must be licensed Maine attorneys with a minimum of five years of experience as a legal aid attorney and two years in leadership roles within the program or community. The following qualifications are also important:
• A demonstrated commitment to the provision of high quality legal service within their own work and program wide;
• Enthusiasm for communicating their passion and commitment to the work to colleagues, employees, and external stakeholders;
• The ability to teach the practice of law to new staff and volunteers;
• Experience motivating and managing staff and/or volunteers;
• A demonstrated commitment to strengthening the quality and reputation of the program as a statewide legal aid provider;
• A demonstrated commitment to Pine Tree's core values and willingness to help staff improve their work over time;
• Strong time management, organizational and communication skills
Additional information about the position is available upon request. The expected annual salary will be in the range of $58,000 – $75,000 depending on experience; Pine Tree provides a very generous benefits and leave package to all of its staff.
To apply
Applicants should provide a letter that details your interest in the position, your qualifications, and what you hope to contribute to Pine Tree's future, together with a current resume and contact information for three professional references. Application materials should be emailed to both Executive Director Nan Heald at nheald@ptla.org and Deputy Director Chet Randall at crandall@ptla.org by Octover 30th, 2018, although the position will remain open until it is filled.
---
Administrator of Information Systems
Pine Tree Legal Assistance and Maine's legal aid providers provide free legal help to Maine residents who can't afford private counsel and who face serious non-criminal problems. We are passionate about our work and committed to doing our jobs in the best way possible.
We are seeking a Network and Computer Systems Administrator with significant end-user experience, knowledge in Microsoft Office 365 with related certifications, expertise in Active Directory and group policy management, and expertise in Cisco Routing, Switching, and Collaboration with certifications in Cisco Collaboration, Routing and Switching to support a statewide provider network. The position is currently housed in our Portland office but could be relocated to a different office or staffed remotely in the future.
Network and Computer Systems Administrator
This position provides technical and managerial leadership in the design, planning, operation, maintenance and advanced troubleshooting of information technology resource including:

Resources that are required and utilized by the staff at Pine Tree Legal, a statewide nonprofit law firm that provides free legal services to low-income individuals, and
Resources required and utilized by users of "The Legal Services Network" which is a 'fee for service' project in which several other nonprofits participate .
The Administrator currently supports an IT network of approximately 180 users in 15 office locations around Maine. Current technologies include Microsoft Active Directory, Microsoft Exchange/SQL/SharePoint, VMware, Cisco VoIP Telephony, Citrix, video conferencing, and a shared computerized cloud-based case management system (Legal Server.)
Current plans assume migration from on-premise to Office 365 in 2019 and ongoing efforts to move to a cloud-based environment entirely in 2020.
Responsibilities:
Maintaining technology systems that support the work of legal aid staff and volunteers in 15 locations around Maine;
Managing, upgrading and monitoring all network devices, including computers, printers, wireless APs, servers, firewalls, switches, and routers which requires subject-matter knowledge across server-based technologies, services and components;
Monitoring the latest technology developments to ensure that IT performance is both consistent with program requirements around the State and managed in response to the cost limitations inherent in a nonprofit environment;
Managing vendor and contractor relationships;
Supervising the IT staff specialist who provides training and 'help desk' support with the case management system and ongoing data analysis and reporting;
Training and supporting local staff (and volunteers) to expand their capacity to manage local problems.
General work expectations:
Become familiar with and follow Legal Services Corporation regulations and other funder requirements as appropriate;
Maintain accurate and contemporaneous timekeeping for all work activities;
Address administrative responsibilities as a Pine Tree employee in a prompt and thorough manner (including payroll and reimbursement requests, as well as grant inquiries and other funder needs
Actively participate in program and provider network meetings where technology issues are under discussion;
Model the highest standards of integrity and ethical conduct and take personal responsibility for one's actions;
Utilize training opportunities that will strengthen leadership and management skills on an ongoing basis;
Contribute to and maintain Pine Tree's high standards for excellence, support colleagues in their work, and otherwise act in accordance with Pine Tree's Statement of Core Values
Specific work expectations:
Responsible for technical and managerial leadership in establishing goals and priorities, design, planning, day to day operation, maintenance and advanced troubleshooting.
Manage the deployment, monitoring, maintenance, development, upgrade and support of all IT systems, including servers (physical and virtual), computers (desktops, laptops and smartphones), printers and copiers, operating systems, telephones, software applications, video-conferencing systems and peripherals.
Provide expertise and support during system upgrades, installations, and conversions and file maintenance.
Oversee systems development and enhancement, the integration of new systems within existing systems and systems change.
Communicate regularly with the software, hardware and services vendors to keep SLAs updated and systems running smoothly and continuously.
Support the ongoing maintenance of servers and storage devices by ensuring up-to-date software releases, maintenance of back-ups, and maintenance of DR plan and testing.
Provide and oversee provision of end-user services, including help desk and technical support services.
Provide regular user training (and user-friendly written explanations) for all tech skills, including training for users who are not well-versed in the use of certain technologies.
Remain current with the ways in which the legal aid community (or law firms) are using technology and provide proactive objective analysis of potential changes to the current IT system in response to those developments, funding opportunities, or provider needs.
Develop and implement all IT policies and procedures, including those for architecture, security, and disaster recovery, standards, purchasing and service provision.
Manage servers, security solutions, network hardware and equipment in Wide Area Network (WAN).
Maintain licensing, domain names and trademarks associated with various technologies used by Pine Tree (and, upon request, by other network providers).
Administer Cisco switching and routing, VoIP system and telecommunications infrastructure and development plans, projects, policies, and procedures.
Ensure the creation and maintenance of all written documentation, including system and user manuals, license agreements, and documentation of system modifications and upgrades.
Work with Pine Tree's fiscal staff to manage the financial aspects of the Information Technology network, including purchasing, budgeting, and budget review.
Participate in Technology Team meetings, and actively collaborate with other team members in fulfilling these functions and assisting in the fulfillment of the responsibilities of the other team members.
Communicate regularly with the Executive Director and all users of information services and systems.
Assure the provision of all services mandated by the agreements related to "The Legal Services Network".
Travel around the State is required on a periodic basis and as necessary when problems arise. Occasional evening, holiday or weekend work is necessary to resolve problems that would otherwise disrupt legal services to low-income clients in crisis.
COMPANY BENEFITS:
Casual atmosphere in an environment open to new ideas.
Paid health, dental, life and long-term disability insurance.
Generous vacation and leave policies.
EDUCATION AND EXPERIENCE REQUIRED:
College degree and relevant continuing education.
IT certifications.
Minimum of 7 years of experience in the technology field, including at least 3 years as systems or network administrator in an IT environment.
To apply:
Interested applicants should provide a letter explaining how their experience and background relates to this position and will help Pine Tree advance in the future, together with a resume and contact information for three references. This information should be sent to Executive Director Nan Heald, Pine Tree Legal Assistance, PO Box 547, Portland ME 04112 or via email to nheald@ptla.org. Applications are encouraged by October 30th, but will be accepted until the position is filled.